---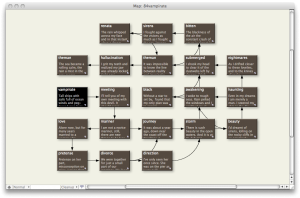 Well here it is, my first vampire story. Actually, I think I wrote one back in high school but this is a HYPERTEXT vampire story. And, the vampire is a PIRATE. You don't get much cooler than that.
I wanted to get started early this morning and this is what came in. When Steve's story came out, I was glad to see that I could tie this in; we both have parrots in the stories.
The map is simple and linear with the exception of–or I should say, addition of–a bit of background and a bit of insight into the mind of the character.  The neatest thing I think is the title page.
3 Responses to "100 DAYS PROJECT: #84"
Mary Ellen Says:
August 13th, 2009 at 8:50 pm

The title page is indeed awesome, both times over. This was very cool, and I think you should expand it. (Do boats have windows or portholes?) Either way, I was disappointed–I want more vampire! Or was I totally off and the narrator is? Ooh, double cool~

susan Says:
August 13th, 2009 at 10:20 pm

Thanks for reading and your comments. Big, big boats have portholes. Yachts of this size usually just have windows.

It's all a bit subtle, even to the narrator, and I chose to leave it at the connection made of the general and perhaps in many cases undeserved perception of bloodsucking folk such as ex-wives and lawyers.

admin Says:
August 16th, 2009 at 9:37 am

Of course it's bothered me for days that you were disappointed in this so I am thinking about revving up the action at sea during the storm, and making the vampire more related to it. Thanks!
Leave a Reply