---
Finally got around to some attempt at organizing my literary endeavors into some semblance of order with Tinderbox.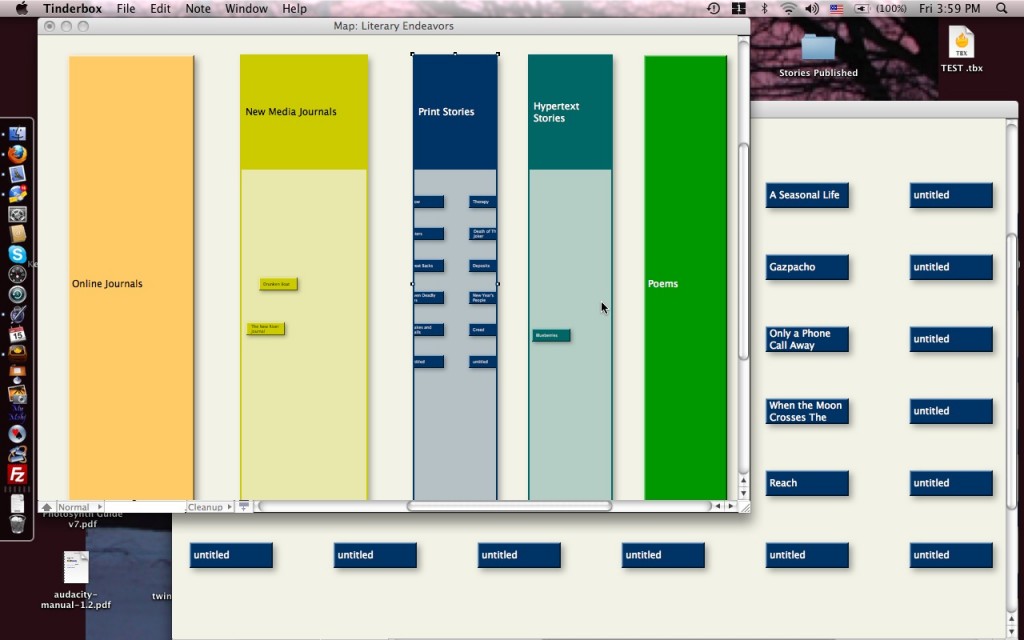 What I've come up with so far is a file called "Literary Endeavors" with containers labeled "Print Journals", "Online Journals", "New Media Journals", and three more labeled "Print Stories", "Hypertext", and "Poetry".
In the "Print Stories" container I've got notes for each of the stories I've written and within each will be the word count, genre, and maybe a separate note within each for where they've been submitted. Maybe all will be separate, so that they can easily be brought up according to genre, or word count or whatever since that will align with many publishing restrictions. The same format will be done with Poetry and Hypertext.
In the three main categories of journals, I'll likely put in a note for which stories have been submitted and the dates of acceptance (Yay!) or rejection (Boo.).
This looks like a fun project to do between writing bouts and will prove invaluable  now that I is a published writer.
4 Responses to "TINDERBOX: Organization"
Leave a Reply