---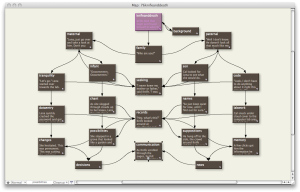 Some days the words form themselves into a story and sometimes the greatest idea just can't get itself written eloquently. At the very least, I feel I'll learn much from the editing of some of these if not the initial execution of them. Of course the ones I thought were pretty damned good aren't always getting that response so who knows.
To follow Steve's lead, I've continued the saga of Knife as the recent generation spawned of Ingnook and Pook that started with #7 Schematica and followed through with #25 Schematica 2 and #50 Knife and the Ballerina (references and links are available on the Flash Fiction page as well as within this latest part of the story).
This went places I didn't expect, and it's another case of one read-through won't reveal the whole story although it will give a complete story. I've resurrected Knife as the main character as only a fiction writer can do.