---
T

his is to separate out hypertext work from the 100 Days Project (Summer 09) which included a hypertext written every day for 100 days. Those stories can be found here: One Hundred Hypertext Stories

~~~~~~~~~~~~~~~~~~~~~~~~~~~~~~~~~~~~~~~~~~~~~~~~~~~~~~~~~~~~~~~~~~~~~~
October 8th, 2009 – National Poetry Day (UK)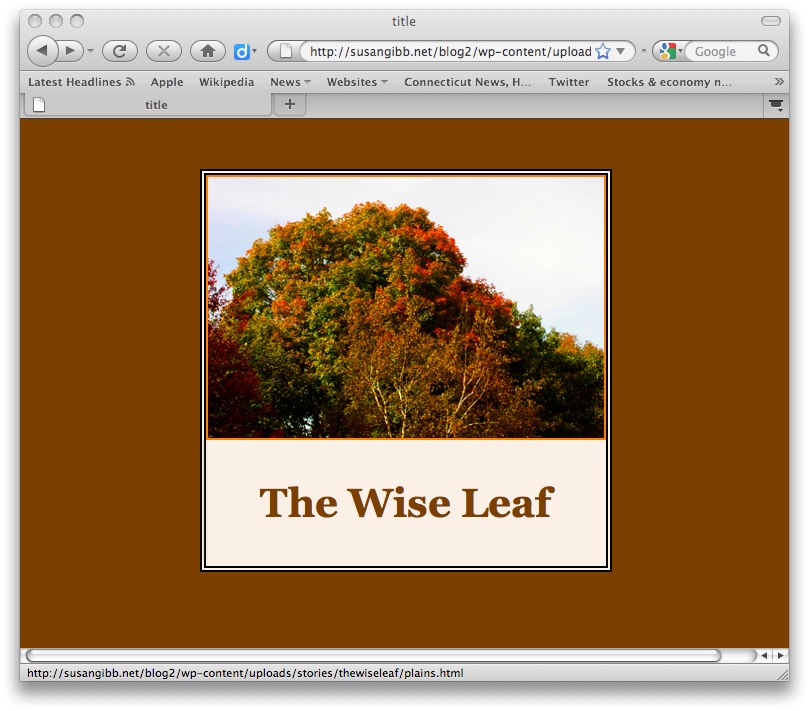 Decided to do a little hypertext poetry in honor of the British Poetry and Poets:
When I should have been working, I wrote up a quick poem in Tinderbox, exported it to html, cheated by picking a css color theme from the 100 Days group, ran outside and took a couple pictures of leaves, ran them through Photoshop mainly for cropping, stuck them in the poem templates, uploaded it to this site and fixed whatever I'd done wrong.
Then I let it sit a couple hours before I went back and edited a bit–not enough, just a bit–before calling it my creative output for the day.
~~~~~~~~~~~~~~~~~~~~~~~~~~~~~~~~~~~~~~~~~~~~~~~~~~~~~~~~~~~~~~~~~~~~~~~~
(First Published in the New River Review, literary journal of Virginia Tech)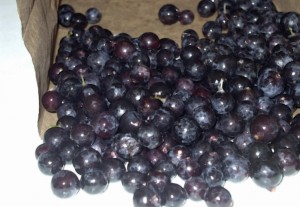 An artist struggles with the ghosts of her past, family, partners, and a strange little man she doesn't recognize as she prepares for a gallery showing.
The paths of Blueberries may give glimpses of episodes in the life of the main character that when gathered together like picked fruit, yield a completely different yet fuller image of the story. That is the nature of hypertext and why I find it so wonderful a medium for story.
Warning: There is some sexually explicit language contained in this story.
(Click on image below for larger image)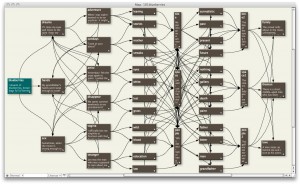 ~~~~~~~~~~~~~~~~~~~~~~~~~~~~~~~~~~~~~~~~~~~~~~~~~~~~~~~~~~~~~~~~~~~~~~~~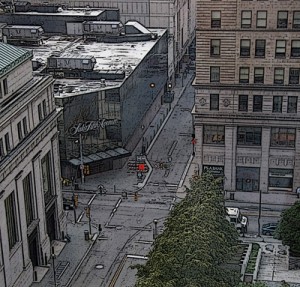 The city can swallow people up, can chew them ragged like a cud.
Devin and his older brother Joseph share a memory that has changed their lives depending upon how each has handled it. Sometimes they reach out to each other in ways that bond them but uncomfortably bring back the past, sharpen its edges to a reality that can draw blood.
(Click on map below for larger image)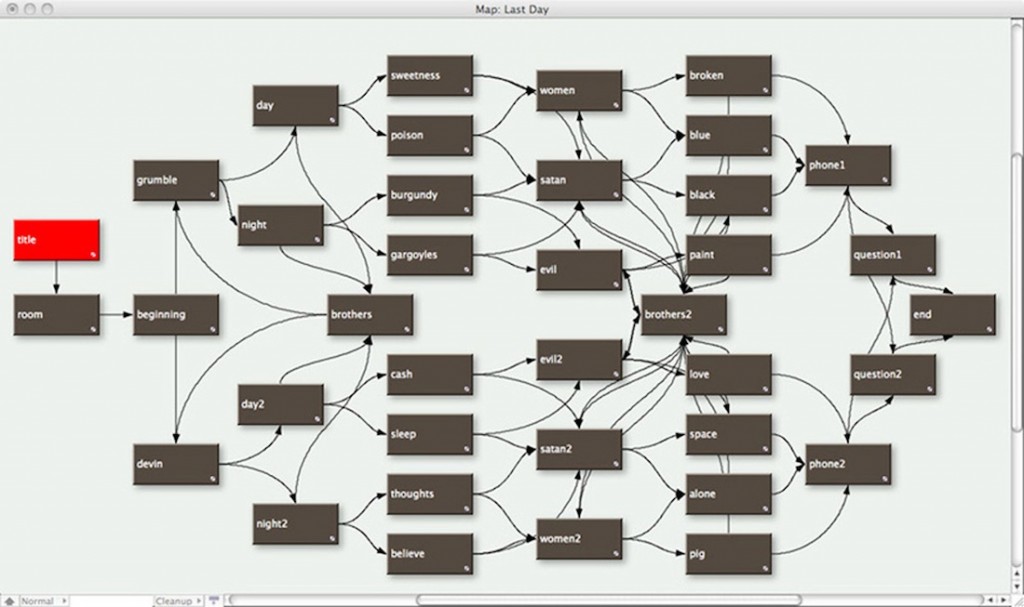 ~~~~~~~~~~~~~~~~~~~~~~~~~~~~~~~~~~~~~~~~~~~~~~~~~~~~~~~~~~~~~~~~~~~~~~~~~~~~
This quirky and silly little story was done as part of a project called "Apartment Nine" by the New Media class at Tunxis Community College, taught by Professor Steve Ersinghaus and Professor John Timmons. I've taken this particular class years ago but sat in on on updated and streamlined yet more intense version of this first of four classes in a series on new media that includes IF, hypertext, digital motion, and explores many arenas of this new form of media entertainment.
Apartment Nine had been started by a previous class, and in this session, the students were asked to select a point in the now-sprawling piece to enter the story and begin their own adventures in writing hypertext. I decided to play along and took the first four text boxes as my entry point, then focused on two sisters, Rosalie and Mary after reading the basic beginning of the piece.
The map: