---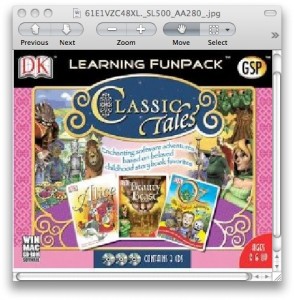 I have two great-nieces that are 6 years old and while one's a Mac user (mom's a graphic designer) and the other's a PC, I found this games pack that incorporates interactivity with three well-known fairy tales.
Some of the key features listed are:
Visual environments based on detailed descriptions
Challenging puzzles
Multiple levels of learning
Deductive thinking
Logic and reasoning
Problem-solving
Concentration and memory
Critical thinking skills
I don't know how advanced Graham and Tatum (I call them Graham-cracker and Tater-tot, love the food-based names!) are with their computer skills, but I'm sure that they've been at it for a number of years already. It's a different generation and learning is a whole new ball game that includes high tech for toddlers up onward. In truth, their own parents, now in their late thirties have been brought up on home computers.
While experience may help with the older student to comprehend learning new ways of working and learning, the younger students approach these marvels with an open mind and no need to relearn or justify what they're involved in. This, I believe, can only speed up the advances made in technology as these kids grow up to build upon the base they've used since chubby fingers and wide eyes played with Christmas toys on keyboards and monitors.
Leave a Reply