---
It's really time to take a break from writing and do some reading; nothing's proven that to me more than a quick scan of the stats on my latest work, Blueberries.
Of the people who read, only one I believe read the whole thing through. Of those that started, it is more interesting as to how far they got based on which links they chose.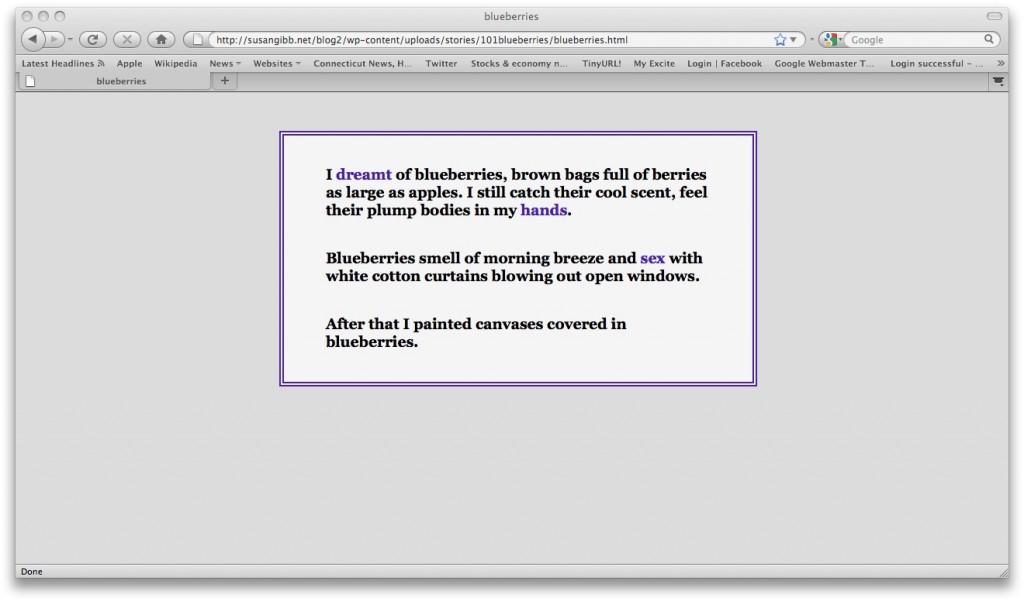 Those who chose the first link "dreamt" only went a few links further into the story. This trail was more of the character's background and childhood experience introducing the basis for her later psychosis. One person chose "sex," which was the last hyperlink, and sorry to say, they didn't go very far either.
So what is the impetus for selection? Does it depend upon the individual as far as style (first, second, third link in order) or experience either of reading hypertext or of knowledge of the author's style? Is it the text itself that creates desire to go further in that direction, whether it be the single word (or phrase) that is obviously the link, or the context in which the link resides?
This is vital information for the writer. If you promise sex, you'd better not lead someone into dinner at Grandma's. All trails must be interesting; just as in straight linear story, each sentence, each writing space, must entice.
Time to read the Bernstein/Greco compilation, Reading Hypertext. As a hypertext writer, this is important stuff for me to know. Meanwhile, I see where I need to tweak either story or linkage in Blueberries.
8 Responses to "HYPERTEXT: Reading"
Leave a Reply